Aries body-shames Lizzo.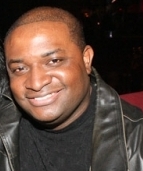 Blog King, Mass Appeal
NEWARK — Aries Spears is fatphobic and proud. Only problem is he's quite corpulent himself. The 47-year-old comedian is under fire after he lambasted Lizzo for being morbidly obese, saying she resembles a steaming pile of feces. Aries spewed the body-shaming remarks during a recent chinwag with "The Art of Dialogue." When asked what he thought of Lizzo's music, Aries said he couldn't get over the fact she "looks like the sh*t 💩 emoji" before adding "she's got a very pretty face, but she keeps showing her body off." Aries also said society is doing Lizzo and paunchy folks a disservice by advocating body positivity. Her fans, however, beg to differ. It's their contention Lizzo, 34, must be in tip-top shape to dance, sing and play the flute. The "About Damn Time" singer addressed Aries' comments while accepting a trophy at Sunday's MTV Video Music Awards.
"For bitches that got something to say about me in the press… You know what? I'm not going to say nothing," Lizzo ranted. "They be like, 'Lizzo why don't you clap back? Why don't you clap back?' 'Cause, bitch, I'm winning, ho! Big bitch is winning, ho! Best revenge is your paper, bitch!" The audience expressed approbation with a thunderous round of applause.
Social media reaction was mixed. One person wrote, "Obese women and the alphabet mafia are one and the same. Both are trying to push a lifestyle and force everyone to accept it. They want to be treated 'equal' but special at the same time." Another chimed in with, "Tired of these ugly men dogging supposedly 'ugly women.' Walk your talk n*gga #bitchbehavior."  A third fan added, "I would wife Lizzo tho. She can cook and clean plus she's a freak and a loyal big girl… shiiid ✌🏾✌🏾✌🏾✌🏾"
Does Aries owe Lizzo an apology?
Do big girls offer more cushion for the pushin?
Watch Aries and Lizzo excoriate each other.
Share your thoughts.