Elvis started with blacks, targeted as public enemy
Elvis Presley had it rough.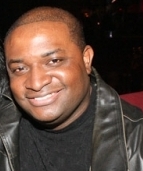 Blog King, Mass Appeal
HOLLYWOOD — Last night, yours truly descried Baz Luhrmann's "Elvis" biopic and it's not bad. As a matter of fact, it's pretty good. Betcha didn't know Elvis (Austin Butler) was a parishioner of a black church where, as a kid, he learned to sing and dance like a negro. Dubbed the 'King of Rock and Roll,' Elvis was mentored by R&B legends B.B. King (Kelvin Harrison Jr.), Little Richard (Alton Mason) and Mahalia Jackson (Cle Morgan). So Elvis was arguably the blackest white dude in American history. But all hell broke loose when Elvis wiggled his phallus in an auditorium satiated with star-struck popsies; many of whom hurled their panties on stage in approbation. Hell, I'm surprised he didn't pick 'em up and sniff. Nevertheless… realizing they couldn't compete, white husbands and boyfriends became jaundiced.
They accused Elvis of dancing like a "n*gger" and gave him the moniker "Elvis the Pelvis."
Politicians proscribed Elvis' gyrations, canceled his television shows and had him arrested in the middle of a concert performance for dancing like Chris brown. A federal judge found Elvis guilty and sentenced him to two years in the penitentiary. But, thanks to a plea bargain, Elvis migrated to Germany where he served in the U.S. Army from 1958 to 1960 in lieu of going to prison.
When the "Jailhouse Rock" singer returned to America, he married Priscilla (Olivia DeJonge) and made her gravid. Elvis later found out his corpulent manager — Colonel Tom Parker (Tom Hanks) — misappropriated his mazuma; putting him $8 million in debt. A depressed Elvis popped pills as a coping mechanism. Then he became a junkie; prompting Priscilla to pack her bags, grab their daughter (Lisa Marie) and file for divorce.
As his métier circled the drain, Elvis ingested fried chicken like a negro.
His waistline outgrew his popularity and he died fat and miserable at 42 years old.
The mortician could barely fit his ass in the coffin.
"Elvis" is available in movie theaters and via HBO Max.
You won't be disappointed.
Blog King's Rating: 4 out of 5 popcorn bags