Kim Kardashian scammed Brandy and Ray J's mama

Kim caught in credit card scam.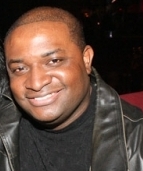 Blog King, Mass Appeal
LOS ANGELES — Not only did Kim Kardashian get rich off her sex tape with Ray J. She also purloined mazuma from his mom's credit card, this according to R&B star Brandy — Ray J's big sister. The "I Wanna Be Down" singer raised eyebrows when she said her mom — Sonja Norwood — filed a lawsuit in 2008 against Kim and her siblings — claiming they stole $120,000 from her American Express card. Before she became a reality TV star, Kim was Brandy's stylist and Sonja gave her permission to make one purchase. But Kim got with her sisters and they went on a shopping spree at a pair of Kardashian-owned clothing stores. "Investigation has revealed that the Kardashians used their two stores and other stores that I have never visited to take advantage of me," Sonja said in a statement. "I very much look forward to having the Kardashians account for their misconduct in a court of law." Because they considered Kim a friend, Ray J and Brandy implored Sonja to drop the lawsuit.
"After Ray J and Brandy urged me not to file criminal charges because of their prior friendship, I decided to afford the Kardashians an opportunity to resolve this matter without a lawsuit," Sonja recounted. "When the fraudulent charges were brought to their attention, they apologized profusely, and advised us, through their attorneys, that they would pay the debt in full."
However, they have since reneged on that promise," she added. 
The good news is the case was settled in 2009. But Ray J determined he couldn't trust Kim so he kicked her to the curb. "Apart from them stealing money from my family, we would probably still be together now," Ray J told the DailyMail. "But when that happened, I said I don't want to be sleeping around with you no more – you stole money from my family. So that's why we stopped speaking."
Brandy said Ray J was so depressed, he contemplated suicide.
Did Kim deserve jail time or a slap on the wrist?
Watch Brandy yap her beak.
Share your thoughts.