Eboni K. Williams shames brothas who work a 9 to 5
Eboni slams Average Joes.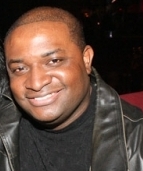 Blog King, Mass Appeal
ATLANTA — Fellas… if you were a C-student and you're driving a bus, don't bother trying to get a date with Eboni K. Williams. That's because the prepossessing barrister told Iyanla Vanzant Average Joes who work 9 to 5 ain't good enough, and that includes employees in public transportation. Eboni, host of Revolt TV's "State of the Culture," believes proprietorship originates with being an A and B student. Instead of driving the bus, it's Eboni's assertion more men should seek the pedagogy necessary to own the damn company. Simply collecting remuneration won't cut it. "To the 50,000 plus comments posted on social [media], I only saw a handful that even considered the possibility of a bus owner being a more aspirational position and recognizing that I am actually speaking and pouring into the ascension of black men when I said what I said," Eboni elucidated.
"But… some of y'all were too busy naming and shaming me personally, and black women in general, as undesirable gold diggers and much worse. Now, I suspect that some of y'all are the same men that were bringing home C's and D's on your report cards only to be coddled by parents that said, 'Well, that's ok. As long as you're doing your best.' Well listen, I love and believe in the excellence of black men. So no, my dear, C's and D's — or any other form of mediocrity — is not ok."
Ouch!
Eboni called low expectations "bigotry" and "white supremacy" even though she bangs Caucasians.
Her mom was also a bus driver.
Social media reaction was venomous. One commenter wrote, "So, according to this skeezer, da Whiteman is oppressing black men by giving us bus driver jobs?😂😂😂" Another chimed in with, "Brothas, it's time to separate ourselves from black women completely. We need to get ourselves together, respect each other, and build together. Kevin Samuels would've destroyed this ANGRY LADY." A third viewer added, "Good thing I work 7 to 6. F*ck 'em."
Do you agree with Eboni?
Should blue-collar workers stop settling for scraps and pursue ownership?
Watch Eboni claim she's not a gold digger.
Share your thoughts.