Crossed-eyed simp claims women always ignore him
Nice guy tired of finishing last.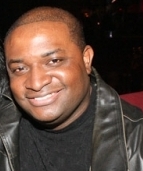 Blog King, Mass Appeal
ATLANTA — A viral TikTok video shows a lachrymose black man, who suffers from strabismus, pouring his heart out because women ghost him for being too nice. The chivalrous Beta Male waited 30 minutes at a restaurant but a chick he met online never showed. Now he's whining like a lil bitch. "I don't know what to say. I'm trying to do everything right to be a gentleman," he explained with his voice cracking. "I brought flowers. I've been consistent talking to this girl for two weeks — trying to get to know what she likes and doesn't like. I've done everything to be just the kind of guy who would value somebody's time. I'm just looking for my person. I'm looking for the one that's out there for me. I wanna be somebody's husband someday. I'm trying to do everything that's right, but I get stood up. Sitting there, eating a meal by myself — realizing nobody cares about people anymore. Internet dating shouldn't be this hard. It shouldn't be this hard to find somebody. It shouldn't be this difficult to fall in love. Ladies, tell me: What did I do wrong?"
Social media reaction was vicious. One commenter wrote, "That's the problem. Bro lookin' for love. You gotta be savage out here or be the victim." Another chimed in with, "Come on, dude is cross-eyed. His market is gonna be limited," to which a third viewer replied, "That's crazy. He can't change his condition. I got a lazy eye from getting hit with a baseball when I was little. Nobody is perfect. I've had chicks call me 'ugly.' But someone will want me someday. Success is the equalizer."
A viral survey says if a man receives 80 percent of what a woman has to proffer, he'll be satisfied — whereas women, when asked the same question, said they wouldn't settle for less than 100 percent.
YIKES!
What's my take?
Never chase love (that's a woman's job) and only become emotionally involved with chicks who are infatuated with you. If you're bustin' your ass to make a woman happy, you got the wrong chick. Sure, she'll copulate with you for benefit purposes. But she don't want you. Simps must learn it's imperative to love yourself first, then shift your immediate cynosure to pecuniary resources. Offer security and women will follow. Hell, y'all can reside in a cardboard box. She won't care. She's merely elated to be in your presence.
And whatever you do, don't ever appear defeated.
Now the entire world knows he's a wuss.
Telling you dawg, dating is a game of percentages.
If a man approaches ten women and 90 percent say "no," he only needs 10 percent to succeed.
Catch my drift?
That said, do you feel sorry for homeboy?
Should he purchase a passport and try his luck overseas?
Watch the disturbing video.
Share your thoughts.
@theshadeborough

A man shares his thoughts and feelings after being stood up on a date he thought he did everything right for. [Cc:🎥 @jonathandoescomedy ]