Evil pastor killed First Lady because she divorced him
Jealous pastor kills First lady.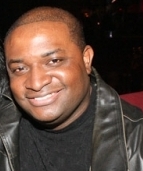 Blog King, Mass Appeal
ORLANDO — Here's another reason to remain skeptical of pastors. Twisted Crimes released the murder documentary of 27-year-old Barbara Tommey who was shot dead by her jealous husband, Ghanaian Prophet Sylvester Ofori, because she was about to divorce his ass. The femicide transpired in broad daylight on September 8, 2020 in Orlando, Florida. According to multiple reports, Barbara — a victim of domestic violence — threatened to divorce Sylvester and he vowed to kill her if she did. He even threatened her in front of her brother. After Barbara filed dissolution documents to end the marriage, a jilted Sylvester followed her to work and waited until she got out the car. Seconds later, he pulled out a gun and opened fire — striking Barbara in the torso. Then he stood over her and fired some more — shooting her multiple times in the head.
Barbara's brother and a handful of co-workers rushed to her aid.
The Ghanaian beauty was transported by ambulance to Orlando Regional Medical Center where she was pronounced dead.
Sylvester fled to his apartment and barricaded himself. But, when the SWAT team showed up, he wisely surrendered. Sylvester was arrested, charged and convicted of capital murder. He tried to claim he's mentally ill. But it was to no avail. The judge gave him the death penalty via lethal injection. Sylvester was the pastor of "Floodgates of Heaven International Ministries."
Barbara was a bank manager at Navy Federal Credit Union.
The turbulent pair got hitched during a lavish wedding ceremony in 2015. But, according to his sister-in-law, Sylvester was very abusive. Barbara's sibling — Sophia Tommey — said he often beat the First Lady, choked her, raped her and put guns to her head. The simp also alienated Barbara from family while monitoring her phone calls, emails and social media accounts.
Again, feel like we're beating a dead horse. Ladies must choose better, and men must stop simpin' for nooky. Jiminy Christmas! If p*ssy was a stock, we could purchase it for pennies on the dollar. Single ladies outnumber us 2 to 1 and they're f*cking us out of wedlock. If a woman sunders the relationship, simply get another one. It's not complicated and many will copulate on the first or second date. Plus, as previously mentioned, you don't have to marry 'em to get the ass. What more do y'all simps want?
Silly rabbit, Trix are for kids.
Watch the explosive documentary.
Share your thoughts.