Pookie murders wife after spending 8 years in prison

Pookie leaves prison then kills wife.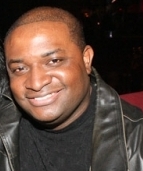 Blog King, Mass Appeal
BURTON, Mich — The adventures of Pookie & Ray Ray continue. Twisted Crimes released the murder documentary of 41-year-old Shauna Roy who was dismembered by her husband, 44-year-old Tony Roy, because she sought a divorce. The femicide transpired at their apartment on Saturday, July 15th in Burton, Michigan. Tony and Shauna had contretemps when she threatened to sunder the marriage. Rather than grant her wish, Tony stabbed Shauna then chopped her up into diminutive pieces. When law enforcement officials arrived at Kings Lane Apartments, they found Shauna's mutilated corpse rotting in the bathtub. She was stuffed into three trash bags. Tony had just served 8 years in the penitentiary so he wasn't ready to go back. The ensuing Monday, Michigan State troopers tried to bust his ass during a traffic stop. The corpulent felon refused to comply even though he had his new girlfriend with him. Instead, Tony pulled out a gun, pointed it at himself, then aimed it at his woman — forcing officers to shoot him dead. "I don't know what was going through his head," Burton Police Chief Brian Ross told reporters.
"But he's been to prison before, so I'm sure he knew what the outcome was going to be."
Tony vented his exasperation with the criminal justice system prior to gettin' gunned down.
"I'm finally home y'all," he said in a video that streamed on social media.
"To get out of prison after being institutionalized and these white people stepping on you every f*ckin' day, talking crazy to you every day… You locked in the box all goddamn day… I ain't never accomplished nothing in my life. I ain't graduate high school."
To compound matters, Shauna was a local hero. In high school, she was a cheerleader and member of the student council. She was a college student. She had aspirations of opening an adult foster care facility, and she was known for succoring the downtrodden. What in the hell did she see in Tony? "She just always wanted to do stuff for people who were less fortunate," said Domonique Vann, Shauna's best friend of 30 years. "She would help anybody. She used to do hat-and-glove giveaways for homeless people and would collect donations." Tony punched Shauna daily. He also beat her with a metal pipe and tried to strangle her with a belt.
They met online through a dating app.
Watch the explosive documentary.
Share your thoughts.