Disabled wife still missing, estranged hubby culpable?
Disabled woman still missing.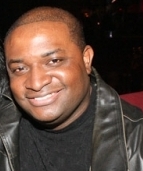 Blog King, Mass Appeal
JACKSON — The adventures of Pookie & Ray Ray continue. Vlogger Leah Gordone released the documentary of 46-year-old Latasha Crump Coleman who came up missing around 7:30 p.m. on Tuesday, July 18th in Jackson, Mississippi. The married mother of one is disabled which explains why a Silver Alert was issued. Latasha had on a black shirt and black cut jeans. She was last seen driving a 2002 gray Acura MDX, bearing the state tag: HPA8639. Her son, Dexter Crump, suspects foul play. It's his assertion Latasha's estranged husband — Derrick Coleman — has something to do with her disappearance. "We feel she is somewhere against her will," Dexter told reporters. "She has been abducted, kidnapped and this is not just a regular missing person. She has left things that a normal person wouldn't just leave." Dexter said Derrick hasn't been seen since Latasha vanished.
He won't answer his phone either.
"I know my mom just wouldn't up and leave without saying anything," Dexter said. "She was going through a divorce and now the husband missing as well. What a coincidence? He won't show his face or answer his phone. I know he knows where my mom is located. He has everything to do with it." Law enforcement officials have yet to interrogate Derrick as a person of interest.
Social media reaction was vicious. One commenter wrote, "The husband is gone and not answering calls & that isn't suspicious to police?" Another chimed in with, "Her husband killed her and dumped her somewhere. He's missing in action because he knows he's guilty and can't face the family." A third viewer added, "This is foul. Women please start divorcing and leaving dudes on the low."
Watch the documentary.
Share your thoughts.