Popular attorney went loco, crashin' her Kia into people
Lawyer had nervous breakdown.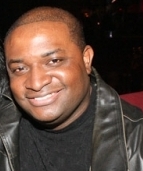 Blog King, Mass Appeal
FORT LAUDERDALE — "A mind is a terrible thing to waste." Viral Crimes release the documentary of Attorney Beatrice Bijoux who went batshit and intentionally crashed her car into a group of people. The bizarre incident transpired around 1 p.m. on February 22, 2022 in Fort Lauderdale, Florida. While driving 35 miles per hour, Beatrice drove her black Kia over the curb and into an outdoor table at the Fresh Market on SE Ocean Boulevard — striking four patrons who were having lunch. Then she put the car in reverse "at a high rate of speed" and tried to hit someone else. Police pulled her over moments later and placed her in custody. During interrogation, Beatrice told the detective she was coerced by an imaginary friend to commit the crime. "I'm an attorney," she said. "I've been hearing voices telling me to kill myself and kill other people. I have a gun at my parents' house right now. I got diagnosed with bipolar and schizophrenia… and it ruined my life."
As the detective elucidated her rights, Beatrice interrupted and implored him to upgrade the allegations so she'll get more jail time. "What are my charges?" she inquired. "Probably four counts of aggravated battery," he replied. "I want the attempted murder charge," she countered. "Because I tried to kill [them]." Beatrice then stood up and tried to egress. But the detective wouldn't let her leave.
"I can try to kill you," she threatened.
"I'm gonna try to kill as many people as I can."
Beatrice, 31, was obviously non compos mentis and the judge showed clemency by finding her "not guilty" by reason of insanity. Instead, the disgraced lawyer was committed to a mental health facility. Beatrice was also disbarred. The métier she busted her ass to achieve was flushed down the toilet. Telling you dawg, this is one of the biggest head-scratchers ever. Beatrice had it all.
She was managing partner and head of litigation at Bijoux Law Firm.
Her television commercials received ample airtime.
And, she was engaged to a white dude she met online.
But Beatrice lost her mind and beauty simultaneously.
She looks like a completely different person.
According to her fiancé, Beatrice worked 100 hours a week and suffered from sleep deprivation.
That combination will drive anybody nuts.
Beatrice said she intended to kill her niece the day of the crash.
Damn.
Mental illness is a bitch.
Watch the explosive documentary and interrogation.
Share your thoughts.