Corey believes women are addicted to men who cheat
Corey Holcomb slams monogamy.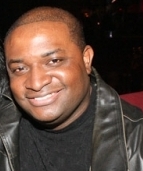 Blog King, Mass Appeal
LOS ANGELES — Love's a bitch! A viral video shows comedian Corey Holcomb elucidating how monogamy typically leads to moroseness for both men and women. It's his assertion everybody's much happier when a dude copulates with more than one 304. That probably explains why Pookie & Ray Ray are so desired in the dating market. Women know they cheat. Yet, they give 'em derrière anyway. "Who happier? The man who got a woman? Or, a man who got [multiple] bitches?" Corey said. "Who do you know that got a woman and they fine? If you are around one woman, it is my opinion that bitch is gonna work you 'til you die. She ain't gonna never be happy about sh*t. She's gonna always find a way to act like what you didn't do. But when you got a lot of bitches, and they know they are one of the bitches, them bitches don't sweat you. Cuz they got some other sh*t going on. So you don't be going through the drama; except for when you pick the bitch up and you gotta explain to her why she ain't number one…"
Social media reaction was Icy Hot. One commenter wrote, "Straight cap. The happiest man in the world is a man that chose the right woman. His ass just can't find a woman that truly loves him. So sad!" Another chimed in with, "All my married friends tell me to stay single." A third viewer added, "Well, in my experience he's right. I was happiest with less drama and stress when I had multiple women. When I settled down and tried to be with one, that's when my hair started falling out."
Do you share Corey's sentiment on polygamy?
Are men and women happier when there's an entanglement involved?
Watch Corey make his case.
Share your thoughts.