Security guard murdered following fight with thugs
Security guard beat to death.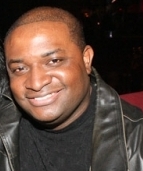 Blog King, Mass Appeal
MESQUITE — Law enforcement officials in Mesquite, Texas are investigating after security guard Patrick Prejean was pummeled to death while on the job. The fatal beatdown transpired Saturday afternoon at Fitness Connection. It was also captured on video. Cell phone footage shows Prejean escorting three miscreants out the gym after they caused a disturbance on the basketball court. When Prejean shoved one of the perpetrators in the back, a bout of fisticuffs ensued. Prejean, 43, was ultimately knocked to the ground. The malefactors then stomped his ass unconscious. Prejean, a father of three, was transported to the hospital where he was pronounced dead. The murderous thugs are claiming self-defense. Prejean's family is pissed. "We want answers because of the way it happened and how sudden it happened," said Michelle Hall, Prejean's cousin. "He was a gentle giant. We are all numb because we can't believe he is gone and the way it happened. He has three boys that's left without a father."
Watch the lethal attack.
Share your thoughts.