Racist white man pummels prepossessing black chick
White man pummels black chick.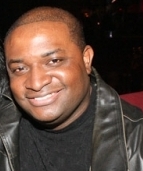 Blog King, Mass Appeal
JACKSONVILLE — Kevin Williamson, a 59-year-old white man, was thrown in the slammer after he beat the sh*t out of a prepossessing black chick because he's fed up with Negroes. The racially-motivated ass-whuppin' transpired May 16th inside a gas station in Jacksonville, Florida. It was also captured on video. Surveillance footage shows Kevin punching 23-year-old Rayme McCoy repeatedly in the head while calling her all kinds of n*ggas. Rayme told police Kevin was yelling racial slurs at someone outside the building prior to the pummeling. While waiting in line, she simply asked Kevin to give her some space because he was standing too f*ckin' close. That's when all hell broke loose. "I went in BP to get gas and I was walking in… there was a guy arguing with an Indian guy," Rayme recounted. "When I walked around him to go inside, he came in after me and was basically yelling 'Y'all [niggers] need to go back where you came from.' I'm pushing his beers away from me and once I pushed the beers away from me, he started punching me in my head."
Rayne suffered a blood clot in her left eye and she has knots all over her temple. Kevin was arrested and charged with misdemeanor battery. Social media reaction was vicious. One viewer wrote, "White guys are always real tough with women and children. Pathetic." Another chimed in with, "I'm betting she was acting like a nappy headed ho and got treated like one."
A third observer added, "Sista better get herself a gun and use that stand-your-ground law." 
Not sure what's going on but white dudes are abusing black women lately.
They're murdering 'em too.
I thought Zaddy love black women?
Kevin is not only a woman beater, he's a registered sex offender with a crime record like Charles Manson's.
Watch disturbing footage.
Share your thoughts.