Le'Veon Bell KO'd Adrian Peterson in 5-round bout
Bell knocks out Peterson.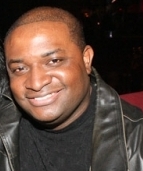 Blog King, Mass Appeal
LOS ANGELES — A viral video shows Le'Veon Bell knocking out Adrian Peterson in a clash of quondam NFL running backs. Bell (drafted by the Pittsburgh Steelers) and Peterson (drafted by the Minnesota Vikings) came to blows Saturday night in a five-round exhibition dubbed "No More Talk" at Banc of California Stadium in Los Angeles. After four lethargic rounds, Bell administered a coup de grâce in the fifth with a wicked right jab to Peterson's chin. A wobbly Peterson stumbled to his feet to continue the fight but the referee mercifully intervened. "I appreciate everybody's love and support, for real," Bell said after the bout. "That's really what kept me going. Honestly, all the hate … that motivates me." Bell, 30, earned $250,000 for the knockout. Peterson, 37, took home a measly $15,000 in a losing effort. Social media reaction was fierce. One viewer wrote, "Big Bad Adrian Peterson put hands on his son but got KO'd by a grown man."
Another chimed in with, "Adrian Peterson's kids cheered the loudest when he dropped."
A third observer added, "A couple of washed-up n*ggas."
Bell said he's done with football which means boxing is his new métier.
Peterson, who was charged with felony child abuse in 2014, has yet to retire from the NFL.
He's a penurious free agent.
Watch the knockout and postfight interviews.
Share your thoughts.