Bishop Whitehead chokes woman at church service

Bishop Whitehead chokes woman.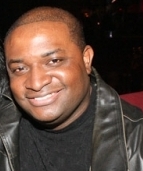 Blog King, Mass Appeal
BROOKLYN — Bishop Lamor Whitehead almost caught a case after he damn near asphyxiated a female congregant during Sunday service. The choking transpired at Leaders of Tomorrow International Ministries in Brooklyn, New York. It was also captured on video. Live stream footage shows Whitehead grabbing the braided Karen by the scruff of her neck when she approached the altar to illuminate his malfeasance. Then he had an usher escort her off the premises before continuing service like nothin' happened. "You not gone come in my space. I feel threatened," he told the congregation. "You ain't gone walk to my baby. Amen! You can walk to me. But when you get to my baby and my family, you gone get out of here. I'm gone protect my family." The woman was later arrested and charged with assault. If you recall, Whitehead (who has a criminal history of his own) was robbed at gunpoint mid-sermon on the pulpit two months ago.
The thieves purloined $1 million in jewelry.
Whitehead also swindled $90,000 from elderly parishioner Pauline Anderson. So it's probably time for civic leaders to deep-six his church. Social media reaction was fierce. One viewer wrote, "Just another con man taking advantage of people in the jungle, smh." Another chimed in with, "You didn't defend your family during the robbery. You was on the floor like a lil bitch." A third observer added, "These churches are something else, especially in the 'Black Community.' But you wonder why people are leaving in droves. Between him, Creflo Dollar, T.D. Jakes and Joel Osteen, I don't know who's worse."
Watch the attack from different surveillance angles.
Share your thoughts.