Black Panther actress gay?
Letitia & Kehlani go viral.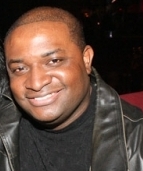 Blog King, Mass Appeal
LONDON — Welp, she looked butch as hell in "Wakanda Forever." Now we know why. A viral TikTok video shows "Black Panther" actress Letitia Wright gettin' freaky with lesbian R&B singer Kehlani in the VIP balcony section of Fabric London nightclub. Cell phone footage shows a scantily clad Kehlani grinding on Letitia who was decked out in a manly black suit. Can't lie, Kehlani looks sexy as hell. Me and my phallus are suckers for Stiletto boots. If you recall, Letitia — an outspoken Christian — turned down movie roles in the past because of her morals. Now she appears to be a high-profile member of the LGBTQ+ community. Social media reaction was wild. One viewer wrote, "I knew Black Panther was pushing a gay agenda." Another chimed in with, "The same Letitia who was using her religion to judge folks?" A third observer added, "Kehlani finna write a song about that Vibranium dildo."
Letitia spoke with The Independent recently about the importance of establishing credence within Christ. Now she's munchin' carpet. "The world is so fickle and there's not much that you can really put your hope in to make you feel whole," she said. "Even now I'm going through a new transformative stage of my life with understanding who I am, but with God you can really just get through these situations. It's been beautiful to have my faith in Jesus, which is worth more than anything."
New transformative stage?
Looks and sounds like Letitia is officially out the closet.
Click the view button and watch the ladies get their grind on.
Share your thoughts.
Yall here's another video of Kehlani and Letitia Wright at the club. My stomach is in shambles 😩💔 pic.twitter.com/ojb88imth0

— Letitia Wright stan account (@KanthonyThings) December 6, 2022