Husband murders his wife because she filed divorce
Wife killed for wanting divorce.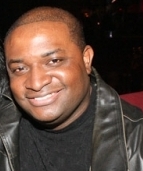 Blog King, Mass Appeal
BUCKEYE — The adventures of Pookie & Ray Ray continue. Hercelyn Mayo was thrown in the slammer after he murdered his wife, 52-year-old Charon Mayo, because she broke up with him. The femicide transpired January 17th around 5 a.m. in Buckeye, Arizona. According to police reports, Hercelyn and Charon had contretemps after she sought a divorce. Moments later, Hercelyn shot Charon multiple times while she was in bed. Realizing he screwed up, Hercelyn drove to his brother's house and asked him to accompany him to the police station because he "had done something bad." Hercelyn walked into the station 45 minutes later and confessed to killing his wife. He was arrested and charged with murder. Also, because he's a convicted felon, Hercelyn was charged with illegal possession of a firearm. "When asked about the convictions, he admitted he was aware he was not allowed to own, possess, or use a gun but he did anyways for his safety," court documents state.
Hercelyn, 54, initially told investigators it was an accident. He said Charon reached for a gun as he was egressing the bedroom, forcing him to shoot her in self-defense. But forensics proved he was a goddamn lie. Hercelyn claimed he shot Charon while standing in the doorway. But the blood on his shirt indicated he was much closer when he pulled the trigger. There were also no shell casings in the hallway and Charon's "wound appeared to be caused from a close shot."
Court docs also state "the victim was laying on her side and was under the comforter and sheets of the bed as if she was asleep or preparing to go to sleep" so there's no way she was reaching for a gun.
Charon, a mother of three, was a Patient Services Supervisor at Sonora Quest Laboratories.
Hercelyn is a bum.
Western women continue to garner sizable income then hook up with inferior simps they can control.
Backfires every time.
Watch the sad report and interviews.
Share your thoughts.