U.S. Airman murdered wife 'cause she had a boyfriend
U.S. Airman butchers wife.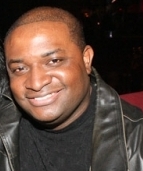 Blog King, Mass Appeal
SAN ANTONIO — Another day. Another simp. Viral Crimes released the murder documentary of 29-year-old Andreen McDonald who was beaten to death by her husband, Airforce Major Andre McDonald, because she had an affair. The femicide transpired February 28, 2019 in San Antonio, Texas. Andre was convicted in February 2023. Their daughter Alayna is now an orphan. According to court docs, Andreen and Andre had contretemps when she started a new business under her name only. The jilted Jamaican took that as a sign his wife was leaving him for her paramour. As the quarrel intensified, Andre shoved Andreen to the floor. Then he stomped her lifeless before wrapping her body in plastic. "I grabbed a couple of trash bags and I put one over top of her and the other one on her lower limbs," Andre testified in court. "I drug her through the house, to the front door." Andre then loaded the corpse into his car, drove to a private property a few miles away, and dumped it.
Oh, it gets worse.
The next night, Andre returned to the site and set Andreen's body on fire.
Her being dead wasn't enough.
"I was angry as hell. I jumped over the fence and toward the body," Andre recalled. "The reason I'm really angry is because I'm thinking about this whole situation. All of this, in my opinion, could have been avoided. Like, if Andreen wanted to be with someone else she was free to do that. I got really angry, So, at that point, I poured the gas on her and I light the fire."
But Andre wasn't done.
He grabbed a hammer and beat the sh*t out of Andreen's cadaver.
"At that point, I got the hammer," Andre explained.
"The body is right there. At that point, I got really pissed-off. So I started hitting the body with the hammer."
"How many times?" the lawyer inquired.
"Honestly, I couldn't tell you. It was multiple times," Andre replied.
"I know I was hitting [her] in the neck and in the face area. I remember like at first I hit her in the face with the hammer and then I used the claw and hit her in the neck area and I remember the claw got stuck in like her neck and that's when I was ripping the hammer out. I thought I was done. But, as I start to walk away, I gave it like one more whack on her body. Not sure where that landed."
Andreen had been missing for months.
Investigators found her remains on July 12, 2019.
The body was completely mangled but Andreen's cross tattoo was used as identification.
Andre was arrested and charged with murder after police officials learned he went to Lowe's and purchased a shovel, a hammer, and a flashlight. But, instead of a murder conviction, the jury found him guilty of manslaughter after 12 hours of deliberation. Ain't that a bitch? Judge Frank Castro did, however, give Andre the maximum sentence of 20 years in prison with no parole.
Andre's 68-year-old father, Everton "Beachy Stout" McDonald, killed his first two wives in Jamaica.
So like father, like son.
What's my take?
Gotta be careful gettin' seriously involved with American chicks mainly because many of 'em are businesswomen in addition to being spouses, girlfriends and mothers. That's why they struggle with all things conjugal because it's nearly impossible to balance all three. Daycare centers are raising our children for Christ's sake. Because so many American women have surpassed their husbands and boyfriends when it comes to career achievements and education, more men are relegated to second-class and they're growing jealous. It's comical to call yourself the man of the house when your lady earns more in remuneration.
That makes you the bitch in the relationship.
What's sad is simps rather commit femicide and putrefy behind bars than remain free and bang other chicks.
Silly rabbit, Trix are for kids.
Watch the documentary.
Share your thoughts.