Chris Tucker vs Hollywood
Chris explains quitting Hollywood.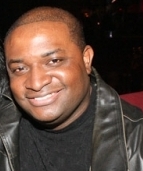 Blog King, Mass Appeal
HOLLYWOOD — "You got knocked the f*ck out!" He was once the highest paid actor in America. He perfected the art of smokin' weed in "Friday." And he earned more than $40 million for two "Rush Hour" movies. Yet, despite all that pecuniary success, Chris Tucker sauntered away from Hollywood because… he's a Christian. In case you didn't know, the 51-year-old comedian was was born into a God-fearing family and his parents were congregants of the Church of God in Christ. So dressing like a bitch (The Fifth Element) and cussin' on-screen (Friday) wouldn't suffice. Chris had no choice but to clean up his act. "I never was a raunchy, raunchy comic but I didn't think about what I was saying because I was young," he said. "Being a Christian helps me in comedy. I have to talk about other stuff. Normally, most comics talk about stuff that's easy — maybe cussing or saying something raunchy. I have to dig deeper to find something that's still funny and not raunchy. It's harder. I like the challenge."
Chris, if you recall, raised eyebrows when he turned down $10 million to reprise his Smokey role in "Next Friday." He certainly enjoyed starring in the first film. But he didn't want to become the poster child for puffin' marijuana. "One of the reasons why I didn't do the second one was because of weed," Chris explained. "I said, 'Man, that movie became a phenomenon. I don't want everybody smoking weed… I don't want to represent everybody smoking weed.'"
Ice Cube, who wrote the film, was disappointed — but understood the rationale.
"We were ready to pay Chris Tucker $10 to $12 million to do 'Next Friday' but he turned us down for religious reasons," he said.
"He didn't want to cuss or smoke weed on camera anymore."
Chris should've took the job.
He owes the IRS $11 million for unpaid taxes in 2001, 2002, 2004, and 2005.
Scuttlebutt has it Jeffrey Epstein tried to turn Chris out when he visited his island.
Watch the documentary.
Share your thoughts.