Alfonso Ribeiro's family labeled the 'whitest' ever
Alfonso Ribeiro taking heat.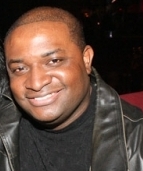 Blog King, Mass Appeal
HOLLYWOOD — Alfonso Ribeiro, choreographer of the anomalous 'Carlton Dance,' suffered a savage beating over the weekend when he shared a holiday photo of his family via Instagram with the caption: "Merry Christmas from my family to yours." The picture shows Alfonso, who's a negro, standing next to his blonde, blue-eyed Caucasian wife and their quartet of mulatto children. Can't lie, the "Fresh Prince of Bel-Air" alum sticks out like a sore thumb. He's the only one with a dark corium. Black Twitter users are calling them the "whitest" black family in American history. One fan wrote, "The Carlton dance tells you all you need to know. He got some weak genes." Another added, "He might need a DNA test, or 4." Alfonso, if you recall, ruffled feathers earlier this year when he accused black people of ostracizing him for marrying a white woman.
"Being Black isn't something that I try to be. It's who I am," Alfonso said at the time. "I am in a mixed relationship and I get things and [dirty] looks and comments constantly. And I find it very interesting because you see a lot of things on social media where people say things and people have positions and perspectives. And it's not easy to make that choice, because you're not at home in any home. I'm never going to be white and I'm never going to be fully supported in the black house."
"So I'm in my own little world with support from almost no one, to be in love with someone I've fallen in love with," he continued. "How does that make sense? It doesn't. We all want to live in a world where everyone is accepted for being and loving and living the way they choose to live. I will support any person that wants to live in a world that they want to live in. I'll support a racist person to live in a world that they want to live in. They don't have to be around me."
Do you support Alfonso's interracial marriage?
Should black people cut him some slack?
Share your thoughts.