Ghanaian pastors gave female members a bath
Pastors gave females a bath.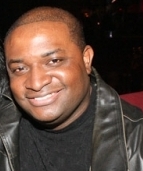 Blog King, Mass Appeal
GHANA — Here's some Amazing Grace for your ass: A video has gone viral that shows a pair of Ghanaian pastors at Endtime Church of Blinks giving female members a full-body ablution during church service… on New Year's Eve… after they stripped butt naked. Lawd have mercy. While sedentary on stage, the clergymen washed the women from head to toe as a gesture to make them pure and sanitary heading into 2022. Shouts of "Amen" can be heard from the congregation as the pastors scrubbed their nude physiques with sponges and rags. The ladies had the option to stand or sit inside a metal tub. Once the lave was completed, they received a new pair of panties to celebrate spiritual cleanliness. Social media reaction was mixed. Jeftaah wrote, "Haha! This is every man's dream. Haha!"
Chief3916 wrote, "Directed by the Holy Spirit!! 💩😡💩"
Preach the Word added, "Absolutely disgusting! REPENT!! Hell is still hot! Hell awaits these wicked pastors, and all of you who laugh and are entertained by this wickedness!" 
When asked why he gave those beautiful women a bath, Pastor Blinks replied: "God ordered me." Gettin' freaky with churchgoers is nothin' new to him. If you recall, just over a year ago, Pastor Blinks shaved off the pubic hairs of female congregates during morning service. There was coochie juice all over the pulpit. Yuck! That's disgusting!
Watch both videos and decide which is worse.
Share your thoughts.