Fight: Tommy Sotomayor beaten up by black chick
Sotomayor got punched in the face.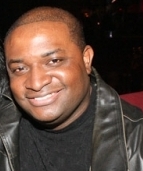 Blog King, Mass Appeal
LOS ANGELES — YouTube vlogger Tommy Sotomayor got clocked in the jaw the other day after he execrated a Nubian popsy on the "Fresh N Fit" podcast. In case you didn't know, Tommy's proclivity entails calling black women "ugly" on a daily basis. He has somehow monetized the hate. But he went too far this time and paid the price. The podcast shows Tommy, who's African American, having contretemps with OnlyFans model Chay Means when things got out of hand. "Stupid bitch!" he yelled. "I'm the wrong n*gga, I'll f*ck you up in here!" Tommy and the fashionista then rose to their feet and started shoving each other. When security intervened, the voluptuous damsel thwacked Tommy in the countenance with a quick one-two combo. The 47-year-old misogynist also threw punches. But none of 'em landed.
The vixen clearly won the fight.
"That's why your dick stinks," screamed Chay who didn't have panties on.
She's referring to Tommy's copulation with her best friend that didn't go well.
Social media reaction was fierce.
One viewer wrote, "He must really hate black women to be putting hands on her like that." Another chimed in with, "He quick to hit a woman but when that dude 'suckered punched' him, he called the police.😂🤣😂" A third viewer added, "A black woman must have really hurt his feelings or maybe that's the way his father treated his mother. That is where all this hatred comes from."
Rumor has it a black lady had Tommy arrested for domestic battery back in the day.
He's despised African American women ever since.
Tommy's motto is: "The darker the berry, the dumber the bitch."
Is the hate warranted?
Watch Tommy get his ass kicked.
Share your thoughts.