Kevin Samuels dead at 56.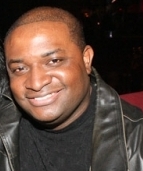 Blog King, Mass Appeal
ATLANTA — YouTube vlogger Kevin Samuels, the Manosphere King whose métier entailed lambasting black women, kicked the bucket early Thursday morning during a booty call. He was 56. Kevin's mom, Beverly Samuels-Burch, confirmed his quietus. But she's pissed at bloggers for disseminating the news too soon. "That was a terrible thing for social media to put that out," she told reporters Friday morning. "I didn't even know. I hadn't even been notified. All I'm doing is requesting that people pray for us." According to police reports, officers were called to an apartment "regarding a person injured." When they arrived, Kevin had already croaked. His female friend, believed to be a courtesan, said he complained about chest pain prior to collapsing on top of her. Rumor has it Kevin swallowed a Viagra pill and it took his life. There's also scuttlebutt he hooked up with a tranny.
Women nationwide celebrated his demise.
One person wrote, "Kevin Samuels has made a career off of shamelessly disgracing Black women for profit. He emboldened the most toxic individuals to project tired and harmful narratives about Black women. Dead or alive, what a disgraceful life to live. That's all I've got for that misogynist." Another added, "What did Kevin Samuels die from? Being 56 and unmarried?" Ouch!
If you recall, Kevin called black women 'leftovers' in a podcast he shared with his 1.4 million YouTube followers.
"If you have made it to 35 and you are unmarried, you are a leftover woman," he said.
"You are what is left. Men know that there is something likely wrong with you."
Should Kevin be remembered as a misogynist?
Do you suspect foul play?
Share your thoughts.