Jealous husband kills wife, stepson as divorce loomed
Husband kills wife & stepson.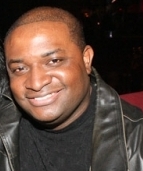 Blog King, Mass Appeal
PEORIA — The adventures of Pookie & Ray Ray continue. Rickey Payne, 34, was thrown in the slammer after he murdered his wife, 32-year-old Quardreka "Dreka" Payne, and stepson, 8-year-old Cael Thornton. The double homicide transpired September 29th in West Peoria, Illinois. According to police reports, Dreka — a victim of domestic violence — was in the process of divorcing Rickey because he was physically abusive. Dreka moved far away from his ass and got her own apartment. She also filed a restraining order. But it was to no avail. Rickey somehow hunted her down, claiming he wanted to see their 15-month-old twin daughters. During the visit, Dreka and Rickey had contretemps. As the argument intensified, Rickey pulled out a gun and shot Dreka multiple times in the countenance. Then he went upstairs and shot Cael twice in the head execution-style.
Rickey didn't harm the twins because they're his. That's why it's imperative to keep stepparents and significant others away from your children. Rickey fled the scene like a lil b*tch. But he made sure the twins were safe in a Pack 'n Play portable playard. When law enforcement officials brought him in for interrogation, Rickey told 'em he didn't know what the f*ck happened because he was in the street selling marijuana.  But, when Assistant State Attorney Jason Ramos caught him in a lie, the n*gga finally came clean.
Rickey was arrested and charged with first-degree murder.
Dreka's father, James Waldrop Sr., still can't believe she's gone.
"She loved taking care of her kids," he said.
"She was very good at that. She did great at that part. She would make sure she gave them what she could – all the love she could – as far as I know, and when she was around everybody it showed." 
Is it time to cancel Pookie & Ray Ray?
Should victims share the blame for sleeping with their asses?
Watch the sad report.
Share your thoughts.