Kansas City serial killer murdered black women
KC serial killer racist as hell.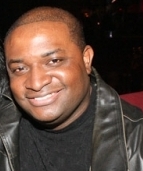 Blog King, Mass Appeal
EXCELSIOR SPRINGS — The Kansas City Police Department is under fire after officers initially refuted reports of a serial killer murdering black women in Excelsior Springs, calling 'em "completely unfounded rumors" until one of the victims escaped. Donning a padlocked metal dog collar with black latex lingerie, the emaciated damsel ran to a neighbor's residence begging for manumission. The neighbor, 41-year-old Lisa Johnson, was getting ready to leave for work around 7:35 a.m. on October 7th. That's when the 22-year-old victim told her she was tortured and raped for over a month by Timothy Haslett Jr., a 39-year-old white supremacist who believes "we're in a race war." The young woman also said she watched Haslett torment and kill other black women. "She looked straight at me and said 'help,'" Johnson told reporters.
When Johnson tried to call police, the victim said, "Please don't. If you call the cops, he's going to kill us both."
Johnson dialed 911 anyway and Haslett was taken into police custody.
He's charged with first-degree rape, aggravated sexual offense, first-degree kidnapping and second-degree assault.
(Listen to KKK death threats issued to Jackson County Prosecutors)
Social media reaction was unforgiving. One reader wrote, "He hates black people so much he chose to f*ck our women. Ok….. He's an incel who fantasized about black women but couldn't get one without kidnapping. Just another reason not to swirl."
Another chimed in with, "Who the f*ck starts a race war against women? Cracker too much of a p*ssy to face a man."
A third person added, "They should've told the police a little white girl was missing. Officers would've found her in 5 minutes."
When investigators searched Haslett's social media accounts, they discovered several bigoted posts. "The race war started a long time ago, wake up ya dumb b*tch," Haslett wrote. He also believes Breonna Taylor deserved to die. Bishop Tony Caldwell and fellow community activists filed claims of "numerous murdered and missing Black women" back in mid-September.
But law enforcement officials felt they calumniated the reports.
Here's what KCPD told Caldwell post-arrest via the Kansas City Defender: "We base our investigations on police incident reports of criminal activity. We do still maintain that there is no indication that what you guys reported was accurate and there was no indication that there was anything that supported that claim. We share what information we can publicly, many times from the scene, of incidents of violent crimes when there is a report or an investigation underway, there had and has not been anything that corresponded to your reports on social media and the web which is why we refuted that report and said that the claims were unfounded."
As for Haslett being apprehended?
Caldwell said better late than never.
"That was the description of the guy we were talking about and that was the location we said they were being taken from," Caldwell recounted. "That's exactly what we were telling people. I'm just sorry that it took so long, but I'm grateful that she found a way out. I'm sorry people didn't act on it sooner, and it's absolutely tragic that the other young ladies didn't make it. It's horrible."
The victim escaped while Haslett was dropping his kid off at school.
She was scantily clad and had duct tape wrapped around her neck.
Sick sadistic bastard.
The women were abducted somewhere on Prospect Avenue in Kansas City, Missouri and held captive in Haslett's basement where he beat 'em with whips and chains. Scuttlebutt also has it, Haslett coerced the ladies to call him "master" during copulation. Ain't that a b*tch? Even with assistance from cadaver dogs, police couldn't find the other victims.
Makes you wonder if Haslett had 'em for supper (à la Jeffrey Dahmer).
Watch alarming coverage and interviews.
Share your thoughts.