Broke actor kills wife, kids before taking his own life

Deranged actor went berserk.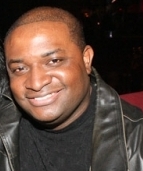 Blog King, Mass Appeal
HIGH POINT — First, Michael Jace. Now this. Residents in High Point, North Carolina are in mourning after actor Robert Crayton murdered his wife, 46-year-old Athalia Crayton, their 18-year-old son, Kasim Crayton, and two children ages 10 and 16, before blowing his own brains out. The murder-suicide transpired January 7th at their residence. According to police reports, officers arrived at the scene around 7 a.m. where they found three adults and two children fatally shot. Robert's oldest son and his girlfriend saved themselves by running to a neighbor's house. They banged on the door and rung the doorbell until somebody answered. "The man said that it was his father," the neighbor recounted. "He woke up, and there was a gun to his head. Somehow he pulled the magazine out of the gun, and they escaped." Scuttlebutt has it Robert, 45, struggled to find an acting gig and lost his mind. The humongous thespian was supposed to check into a psychiatric hospital prior to the massacre.
Social media reaction was melancholic. One reader wrote, "Although people keep blaming mental illness, it's really just these males feeling like they've failed. They can't get what they want so they erupt in rage. They are killing their families because they are narcissistic and simply see them as extensions of themselves. That's why there's so many murders by these males."
Another added, "Mental health my butt, people are demonically possessed. These men out here are messed up."
Sadly, Robert ain't the only out-of-work actor to go cuckoo for Cocoa Puffs.
Michael Jace murdered his wife after 6 years of unemployment.
Robert's film credits include "Southern Fried Stings" and Regina King's "Let the Church Say Amen."
Watch the sad report and interviews.
Share your thoughts.