Thug kills girlfriend's twins 'cause she kicked him out

Pookie kills girlfriends kids.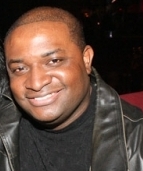 Blog King, Mass Appeal
EL CAJON, Calif — Here's another reason to keep stepparents and significant others away from your children: Dwayne Edward Groves Jr., 41, was thrown in the slammer after he murdered his girlfriend's twin daughters because she broke up with him. The double-femicide transpired April 15, 2020 in El Cajon, California. According to police reports, Joann Hoyt told Dwayne she was done, sparking a bout of contretemps. When she asked him to pack his sh*t and egress, Dwayne pulled out a gun and opened fire — killing 15-year-old twin sisters Caira and Leah Christopher. Then he pistol-whipped Joann's 22-year-old son before fleeing the scene. Deputies used a patrol helicopter and found Dwayne hiding in a backyard a few houses away. He was arrested, charged and convicted of murder. Dwayne was sentenced on April 7, 2023. He's now serving life without parole plus an additional 72 years in the penitentiary. That negro ain't never gettin' out.
Joann told the court Dwayne "played the nice guy" and "acted with what appeared to be love and compassion" throughout their 6-year relationship. She had no idea he was a Pookie despite the fact he was homeless and unemployed when they met. Joann also said Caira and Leah considered him a father figure. "He won over our hearts to later break them," Joann bemoaned.
"He was evil living in our home waiting to steal our joy."
Joann's mom, Karen Hoyt, voiced a homogeneous sentiment.
"You betrayed us," she told Dwayne.
"We welcomed you and accepted you into our family."
Social media reaction was vicious.
One commenter wrote, "What's f*cked up is the father was probably a better man for his kids than what she laid up with. Bitches be so quick to move on to Pookie & Ray Ray, bringing harm to the family."
Another person added, "Some women find these types of weirdos normal.🤦🏾‍♂️😔"
Caira and Leah starred on the high school basketball team.
"They had so many plans for the future," Joann said.
"Plans with friends that will never be fulfilled, milestones they will never cross over. This past year we celebrated their 18th birthday and what would have been their graduation."
Dwayne's kids were in the home during the shooting.
But he made sure they were safe.
Moral of the story: Never trust Pookie & Ray Ray.
Watch the explosive documentary.
Share your thoughts.