LJ said Jay-Z & Beyoncé performed Satanic rituals
Larry Johnson slams Jay-Z.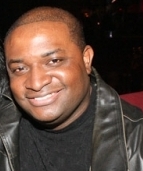 Blog King, Mass Appeal
NEW YORK — Hell hath no fury like a gay lover scorned. Culture Spill released the documentary of former Kansas City Chiefs running back Larry Johnson who put his life on the line when he exposed the truth about Jay-Z and Beyoncé's Illuminati rituals. If you recall, Larry and Jay-Z used to be tighter than hair weave. They partied together. They lived together. And Larry threw up Jay-Z's Roc Nation "Diamond Cutter" sign during every touchdown celebration. But after Larry damn near asphyxiated a woman in Vegas, Jay-Z cut him off. Now we've learned Larry suffers from CTE, anxiety and depression. To say he's hit rock-bottom would be a vast understatement. When asked to give his opinion on the Satanic deportment of Jay-Z and Beyoncé, Larry didn't mince words. "It's obvious they're being controlled by Satanism," he said. "I'm not really scared to say that… We all know Luciferians, Freemasons and all occult knowledge that was drugged up from Egypt have now surfaced itself in American society."
"Obviously, they're not serving the same, most-high God that I am," Larry continued. "And that's what makes us enemies. I stand for a completely different doctrine, a completely different nation, and a completely different truth than he does." Social media reaction was wild. One commenter wrote, "That's what happens when you sell your soul to the devil." Another chimed in with, "They never sing or talk about God." A third viewer added, "Larry is damn crazy. I see why Jay-Z got rid of him & Beyoncé got rid of that crazy bitch Ashley Everett. They both crazy!"
Scuttlebutt has it Larry and Gay-Z were knockin' boots.
After all, it's completely unnecessary for two heterosexual millionaires to share a condo.
Is Beyoncé responsible for their cessation?
Should Larry move on and find another lover?
Watch the explosive documentary.
Share your thoughts.