Jamie looks like a clone.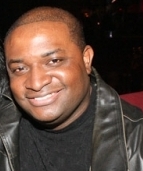 Blog King, Mass Appeal
ATLANTA — He's back… sort of. Jamie Foxx addressed fans Friday night for the first time since suffering a stroke back in April. The 55-year-old thespian was in Atlanta on the set of his new movie when his body broke down. Scuttlebutt has it Jamie was euthanized and replicated after being blind and paralyzed. The Instagram video he disseminated did nothing to dispel those rumors. Jamie looks like a clone. "I went through something I thought I would never, ever go through," he explained while fighting back tears.  "I know a lot of people were waiting or wanting to hear an update, but to be honest with you, I didn't want you to see me like that, man. I want you to see me laughing, having a good time, partying, cracking a joke, doing a movie or a television show. I didn't want you to see me with tubes running out of me and trying to figure out if I was going to make it through."
Social media reaction was skeptical. One commenter wrote, "Since when was Jamie light-skinned ???" Another chimed in with, "You can tell he's a replica by lookin' at his forehead. His face is skinnier too." A third viewer added, "THAT'S NOT HIM, HALF A BEARD, FADE LOOK CRAZY, AND HE HAS A NETFLIX MOVIE NO ONE IS WATCHING. THEY WANT Y'ALL TO WATCH THE MOVIE. DON'T DO IT!!!" 
Jamie has a new movie on Netflix called "They Cloned Tyrone."
Rapper Ice Cube and comedienne Mo'Nique accused gatekeepers of replacing him with a doppelganger.
Watch Jamie's creepy video.
Share your thoughts.