Tyler Perry's dating advice
Tyler gives bad dating advice.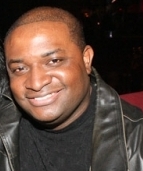 Blog King, Mass Appeal
HOLLYWOOD — A viral video shows Madea's alter ego, Tyler Perry, imploring desperate black chicks to settle for Pookie & Ray Ray to eschew desolation. HALLELUJER! It's Perry's assertion there's a paucity of high value men. Therefore, single ladies would be sagacious to embrace consolation. "In our society right now, black women are making a lot more money — for the most part — than black men," said the cross-dressing filmmaker during an appearance on Crystal Hayslett's podcast. "So if you can find love… if that man works whatever job and is a good man, and he's good to you… and does what he can… that's ok. That's not somebody who's beneath you. That's somebody who came to love you at your worth." Perry also said there's nothin' wrong with women paying most of the bills and covering the mortgage as long as men contribute to the light bill.
Cool, sign me up for that.
Hell, I'd marry any of you chicks right now if all I gotta do is handle electricity.
In all seriousness, Perry is dead wrong. The median income for black men is $48,000 compared to $41,000 for black women. As a matter of fact, females (regardless of ethnicity) earn less than their male counterparts. That's why women are fighting for equal rights. But if you've seen any of Perry's movies, you know damn well his repertoire lacks veracity and realism. Secondly, he's in no position to talk because he's gay.
An alpha male would never exhort women to date down.
And thirdly, black women have coddled Pookie & Ray Ray for years and it's getting 'em killed.
For that reason alone, Perry should encourage popsies to shoot for the stars.
Social media reaction was fierce. One commenter wrote, "This is where people hear what they want to hear. He did not say date a bum or Pookie & Ray Ray. He said if a man makes less it's ok. That women need to get out of this train of thought that if she makes 100k a year and he makes 80k that's not good enough. Instead of looking down at him, she should realize together they're making 180k a year."
Another chimed in with, "He ought to be ashamed! Telling black women to step down? Why won't he tell black men to step up? Get the f*ck outta here. He's cancelled. Not supporting any of his sh*t."
A third viewer added, "Aren't black men settling? Non-virgins, baby mamas to multiple men, overweight, fake hair, stank attitudes… aren't men settling?"
Do you share Perry's sentiment?
Should women settle for less?
Watch Perry yap his beak.
Share your thoughts.