Battered wife murdered by husband in front of 3 kids
Battered wife gunned down.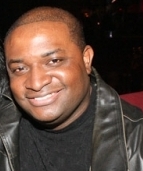 Blog King, Mass Appeal
BUFFALO — The adventures of Pookie & Ray Ray continue. Adam Bennefield, 45, was taken into police custody after he murdered his wife, 40-year-old Keaira Hudson, because she was ready to leave his abusive ass. The femicide transpired October 5th in Buffalo, New York as Keaira attempted to drop their three children off at school. Keaira's corpse was found inside the vehicle riddled with gunshot wounds. The children were not harmed. Adam absconded, but was later arrested and charged with one count of second-degree murder and three counts of endangering the welfare of a child. The fatal shooting also took place after Keaira, a victim of domestic violence, posted a graphic Facebook video that shows Adam beating her ass. He punched her multiple times like she's a man. Keaira was scheduled to appear in court for a custody hearing the same day she was gunned down.
Adam, who was released from jail 24 hours earlier, made sure Keaira didn't make it.
"She's just been trying to get help. I've been with her going to police stations, she's been texting me, sending me videos, giving me her phone password just in case," said Montaysha Jeter, Keaira's sister. "She's been staying at my mom's house for the last couple of days and she was going to go to court today because he was trying to get custody."
Adam was such an asshole, Keaira normally wore a bulletproof vest before egressing the house. When asked why, she replied: "Because mom, he's going to kill me. You don't understand." Unfortunately, terrorizing women is nothin' new to Adam. Back in 2000, the Ike Turner-wannabe slammed a stolen car into his ex-girlfriend's vehicle then kidnapped her at gunpoint.
He served 15 years in prison.
Keaira knew about Adam's criminal history prior to gettin' hitched.
So it makes you wonder why she married him.
Watch the sad report.
Share your thoughts.