Big brother murdered and torched his pregnant sister
Brother kills pregnant sister.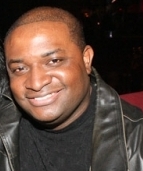 Blog King, Mass Appeal
FRESNO — The adventures of Pookie & Ray Ray continues. Aaron Dudley was thrown in the slammer after he torched his gravid kid sister, N-Kya Logan, then threw her in the trash. The femicide transpired 12:30 p.m. December 13th at a residence they shared with mom in Fresno, California. N-Kya's corpse was found inside an alley garbage bin.  The Fresno Fire Department and Fresno Police Department responded to the scene. Police Chief Paco Balderrama told reporters N-Kya, 26, had "been stabbed to death and then set on fire." She was 8 months preggo and hosted a baby shower the preceding Sunday. "When they arrived they saw a victim who had been set on fire, completely engulfed in fire," Balderrama said. "We have several witnesses who saw the fire, but one witness who actually took a picture of a person who we believe is the suspect standing over the body. Several surveillance videos which show the suspect pushing a trash bin. We believe the victim was inside the trash bin. She was taken to the alley before she was set on fire."
When officers approached Aaron for questioning, Balderrama said "he ran from police, which is something very typical of a guilty person." Investigators later learned he stabbed N-Kya multiple times, poured gasoline all over her body, then struck a match. Aaron, 41, was arrested and charged with two counts of first-degree murder. N-Kya's unborn son didn't die as a result of the inferno.
Instead, Aaron stabbed him to death too.
Social media reaction was melancholic. One reader wrote, "Now he gets to lay up rent free for life. He'll have food and a bed. And the two beautiful souls he took are no longer here. 💔 🤬🤬👹" Another chimed in with, "He was jealous and envious of his baby sister. She was so young but doing much better than him in life." A third person added, "To Real Black Kings: We need to protect our black women by all means‼️…. these sick f*cks are killing them on a daily basis whether it be their brother, boyfriend, husband or whatever. We must take a stand together and keep them safe from these weird motherf*ckers‼️" 
N-Kya was a nursing student with a promising future.
Aaron is a penurious bum still living with his mama at 41 years old.
Watch the sad report and interviews.
Share your thoughts.