Father attacks son's killer during his court hearing
Dad attacks son's killer.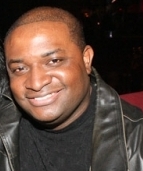 Blog King, Mass Appeal
ORANGEBURG — A viral video shows the father of murder victim Willie Antoine Fields sucker-punching his son's confessed killer, 22-year-old Lindy Lamont Jones, in the middle of a court hearing. The pummeling transpired Thursday morning during sentencing at Orangeburg County Courthouse in South Carolina. Jones pleaded guilty on Wednesday. The homicide occurred August 2, 2019. Surveillance footage shows Willie Clay Fields thwacking a manacled Jones from behind then punching him multiple times before the baliff and courtroom officers mercifully intervened. "Back off, sir! Back off, sir!" screamed one of the deputies. After he got his butt kicked, Jones — whose hands and feet were shackled — got up off the floor and yelled, "I'm going to beat your ass, boy! I'm going to beat your ass!"
Mr. Fields was arrested and charged with assault, battery and contempt.
Jones was escorted back to jail.
Was Mr. Fields in the wrong?
Is he a chump for attacking a handcuffed man?
Watch the beatdown.
Share your thoughts.