Baby daddy kills girlfriend, decapitated her 'internally'
Mayzio murdered Deandrea.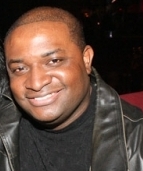 Blog King, Mass Appeal
CINCINNATI — The adventures of Pookie & Ray Ray continue. Mayzio Arnold was thrown in the slammer after he murdered his baby mama then lied to police. The homicide transpired February 15th in Cincinnati, Ohio. The 25-year-old malefactor was arrested and charged Wednesday, July 13th. According to court docs, Mayzio pummeled 24-year-old Deandrea Funchess to death then told police she died from a drug overdose. However, 5 months later, a coroner discovered Mayzio beat Deandrea so severely, the ligaments of her spinal column were detached from the base of her skull. In other words, Deandrea was "internally decapitated" via atlanto-occipital dislocation. Social media reaction was unforgiving. One person wrote, "What a monster! I hope he gets the death penalty!" Another added, "I can't for the life of me understand why beautiful women fall for these losers! It's so stupid." Bernadette Davis, Deandrea's mother, told reporters she spoke with Mayzio several times since her daughter's quietus. She had no idea he was capable of murder. "It's really a shocker right now to find out that he's responsible for this," Bernadette said. "From day one, it never made sense to me."
Deandrea was a nursing home worker.
She and Mayzio have two children together.
Share your thoughts.