Suicidal nurse caused big accident, kills half a dozen
Nurse kills 6 people.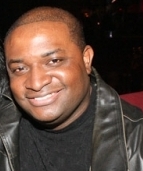 Blog King, Mass Appeal
LOS ANGELES — Nicole Lorraine Linton — a 37-year-old nurse from Houston, Texas — was thrown in the slammer after she caused a fiery wreck that took the lives of six people, including a gravid popsy and her unborn child. A sextet of children and two adults were also injured. The deadly crash took place August 4th at a busy intersection in Los Angeles, California. It was also captured on video. Surveillance footage shows Nicole speeding through a red light in her Mercedes at roughly 100 miles per hour, striking at least five vehicles (setting 3 on fire and leaving 2 totaled). The speed limit was 35. Nicole, who has a history of "profound mental health issues," was having contretemps with her boyfriend at the time. Yep, all of this happened over some dude. That's why many in law enforcement believe Nicole tried to commit suicide. The prepossessing redbone faces six counts of murder and five counts of vehicular manslaughter.
Nicole is lookin' at life in prison.
Social media reaction was fierce. One viewer wrote, "I swear every time this happens, the driver who causes the wreck always survives no matter how extreme the crash was." Another chimed in with, "I think the worst part is she wasn't drunk or anything (not that it would make it better). But the fact that she was fully aware of what she was doing makes it 10x worse." A third observer added, "She had no regard for human life, it's truly unforgivable."
Sadly, crashing into cars is nothing new to Nicole.
She's been involved in 13 other accidents.
Damn.
Watch the explosive wreck and Nicole's court appearance.
Share your thoughts.