Zaddy drove a beautiful millionaire to kill herself
Zaddy extorted black beauty.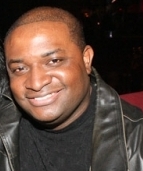 Blog King, Mass Appeal
NEW YORK — When swirlin' goes terribly wrong. Twisted Crimes released the documentary of Miss Jessie's co-founder Titi Branch who reportedly killed herself after her white boyfriend, 43-year-old Anthony Spadafora, swindled her through means of extortion. The alleged suicide transpired on December 4, 2014 in Manhattan, New York. Titi, 45, seemed to have the perfect life. The hair care entrepreneur started the aforementioned empire with her sister, Miko Branch, and she appeared to level up by dating Zaddy. But, according to Miko, Anthony treated Titi like "a human ATM" and siphoned her bank account. He also extracted "hundreds of thousands of dollars from Titi to launch his own beard-care business, Maestro's Classics; $420,000 to buy and renovate a Pennsylvania house; and a $135,000 interest-free loan."
Zaddy then coerced Titi into changing the beneficiary of her million dollar life insurance policy from Miko to Anthony. To add insult to misappropriation, Titi learned Anthony had an affair with a white chick and got her pregnant. When the chocolate beauty threatened to sunder ties, Anthony vowed to share "compromising photographs that he had taken of her."
Titi's cadaver was found inside her luxury apartment moments later.
Investigators said the coiffure queen put a plastic bag over her head and hung herself.
Yeah, right.
Shortly after the tragedy, Anthony sent Titi's family a barrage of emails, claiming she drafted a new will that gives him half of everything she owns. Zaddy also threatened to kill 'em if they didn't succumb to his demands, saying stuff like, "You're next." Everything added up the moment Titi died. "My sister's death has been a devastating blow," Miko bemoaned.
"It was only after Titi's death that we learned more about what she'd been going through and how her affairs were being managed."
Found in 1997, Miss Jessie's generates roughly $5 million in annual revenue.
The company has won numerous beauty awards.
As soon as Titi croaked, Anthony reportedly received $2 million in life insurance money plus 50 percent of her pecuniary resources.
Miko has an active lawsuit against him.
The case has been in court 8 years and counting.
Moral of the story: Zaddy is different. But he ain't better.
Our big black d*cks still reign supreme.
I call mine "Mandingo."
Watch the explosive documentary.
Share your thoughts.