NFL player naked in public, claims his coach is a killer
Chandler Jones lost his mind.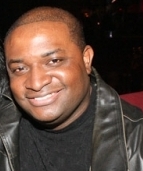 Blog King, Mass Appeal
LAS VEGAS — A viral video shows quondam Las Vegas Raiders lineman Chandler Jones claiming convicted felon Aaron Hernandez didn't commit suicide. Instead, it's his assertion a murder took place. Jones, who's non compos mentis, also insinuated Raiders head coach Josh McDaniels was complicit in the crime before crying hysterically. It's one of the most disturbing things you'll ever see. If you recall, Jones and Hernandez were teammates when they played for the New England Patriots. Hernandez was sentenced to life in prison for murdering semi-professional football player Odin Lloyd back in 2013. He hung himself four years later. "Wait, they don't know what happened with Aaron Hernandez and Josh McDaniels?" Jones said before pulling out a flashlight like he's a cop. "Y'all thought Chico killed himself in jail? Y'all thought my n*gga Chico killed himself in jail?"
Social media reaction was fierce. One commenter wrote, "National Felony League never disappoints!" Another chimed in with, "Dude completely lost his sh*t!!! Definitely needs some professional help!" A third viewer added, "He did the same thing in New England. Showed up naked to a police station in Massachusetts in the middle of a snow storm."
Jones was arrested on September 28th for violating a restraining order. The 33-year-old lineman showed up nude at his baby mama's house, purloined her personal belongings, then set 'em on fire. Must be something in the water in Vegas 'cause the Raiders have had bad luck retaining players as of late. Damon Arnette, drafted in the first round, was released in November 2021 after a viral video showed him brandishing a gun and threatening to kill a n*gga.
Henry Ruggs, also drafted in the first round, was released in November 2021 after he got drunk then crashed his sports car into Tina Tintor — killing her and a dog. He's serving 3 to 10 years in prison. Ruggs was driving 156 miles per hour when he crashed.
Yikes!
What's my take?
I think it's CTE.
I played football. Some of you played, and taking too many shots to the head will definitely f*ck you up. Jones is an 11-year NFL veteran. So we're talkin' ample blows to the encephalon. The NFL is fun to watch. But half of the league's players suffer from CTE, chronic arthritis, and other physical/mental ailments before and after retirement. Jones is merely one of many. What's sad is he's probably telling the truth. I'm not sure Hernandez killed himself. The same can be said for Jeff Epstein.
But Jones is in such a dire state mentally, his claims lack merit.
Instead, he looks like a crazy man.
Do you blame CTE for the loco deportment of many NFL players?
Is the Illuminati partly culpable?
Watch Jones go batshit on camera.
Share your thoughts.
Chandler Jones of the Las Vegas Raiders saying Aaron Hernandez didn't kill himself in jail, suggest Josh McDaniels has something to do with it and then begins to cry hysterically.

Can someone in the @NFL or @Raiders organization get this man some help? pic.twitter.com/lF46K9IbV4

— Grand Old Patriots🇺🇸 (@GrandOlPatriots) September 28, 2023