Crazy teen murders mom & boyfriend in Harper Woods
Teen kills mom & boyfriend.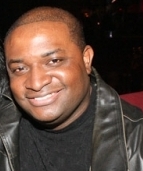 Blog King, Mass Appeal
HARPER WOODS — The city of Harper Woods, Michigan is in mourning after 19-year-old Demond Burgen Jr. murdered his mother and her boyfriend during Labor Day weekend because he wasn't gettin' enough attention. You can't make this stuff up. The double murder transpired September 2nd around 1 p.m. at their residence in the 19190 block of Woodside. According to police reports, a jealous Demond shot 45-year-old Khalilah Elam and 52-year-old Reginald Farmer multiple times then hid in the basement. After a lengthy standoff, law enforcement officials found Demond holding a gun to his head. But he was taken into custody after negotiations. Khalilah and Reginald were found in an upstairs bedroom, both riddled with gunshot wounds. They were reportedly canoodling when the jaundiced teen barged in and opened fire. Demond was charged with two counts of first-degree murder and two counts of felony firearm possession. Rumor has it he's non compos mentis.
But that's still not an excuse.
Social media reaction was unforgiving. One person wrote, "I hope the little bastard rots in jail! All these people are not mentally ill. They just don't give a crap." Another chimed in with, "Sons are extremely jealous because they do not like anyone but their father!" A third person added, "There's no mental health issue there. He knew what he was doing. Life without parole is what he deserves."
Do you concur?
Also, should men date women with teenage children?
Watch the sad report.
Share your thoughts.