Son kills mom while she's putting away the groceries
Mother murdered by son.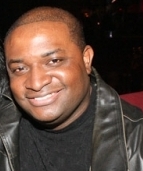 Blog King, Mass Appeal
NORTHWOODS — The adventures of Pookie & Ray Ray continue. 22-year-old Tony Martin Jr. was thrown in the slammer after he murdered his 50-year-old mom, Christy Martin. The matricide transpired at their residence Wednesday morning around 10:45 a.m. in Northwoods of St. Louis County. According to police reports, Christy and Tony had contretemps in the kitchen while putting away groceries. When she grabbed his arm to get his attention, Tony shot her in the chest. Christy was pronounced dead at the scene. Tony was arrested and charged with second-degree murder. Neighbor Glenn Williams said Tony has a history of actin' a damn fool. That's why he chose to stay away from him. "It worried me a couple of times because he actually was outside," Glenn recalled. "Nobody was out here, and he was shooting in the sky. And then the one guy who lives down the way said (he) pulled a gun on his grandmama. And she was telling him to move his car off the street because we have to park on the street. Then I was like, well, I'm gonna leave him alone."
"I wouldn't think that you would pull a gun on your mom," Glenn continued. "You know, somebody that's taking care of you. You're staying at her house. So really, it shouldn't have been an argument at all. Whatever she says should have just been the final word."
Police officers have been to Christy's house multiple times and they saw Tony point his gun at family members before. The recalcitrant teen is reportedly unemployed with no goals. Social media reaction was fierce. One person wrote, "Y'all spoil these kids for 20 something years. I mean spoil them kids rotten. And then when they grown ass f*ck you want to cut it off cold turkey, like he/she ain't gone go crazy, like they ain't gonna lose their mind. They whole world has been given to them… yes yes yes… and now you saying no no no. It's a sad situation man. But gotta quit spoiling these kids to where they're just rotten."
Watch the sad report and interviews.
Share your thoughts.