Cheap husband murders family over high light bill
Hubby kills family over light bill.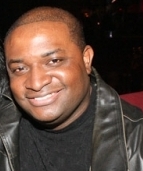 Blog King, Mass Appeal
DELAND — The adventures of Pookie & Ray Ray continue. Michael Williams was thrown in the slammer after he murdered his ex-wife and stepson because they ran up the electricity bill. The double murder transpired Sunday night in DeLand, Florida. Michael's ex, Marsha Ebanks-Williams, was a life coach and host of "Marsha Talks." She's also a granny because her son, 28-year-old Robert Adams, has two children (ages 5 and 6) who witnessed the tragedy. Michael, 47, and Marsha, 48, don't have any kids together. According to police reports, Michael turned off the lights then put a padlock on the electrical box to prevent Marsha and Robert from running up a high electricity bill. When Robert clipped the lock and turned the lights back on, all hell broke loose. A belligerent Michael cussed 'em out, pulled out a gun and opened fire — killing Marsha and Robert.
Michael called 911 and told the operator he acted in self-defense, claiming Marsha and Robert attacked him. But police didn't buy it. He was arrested and charged with murder. "Michael was upset that he felt that they were leaving the lights on in the house, and he went and put a lock on the box outside the house, which Marsha and her son cut," said Chief Deputy Brian Henderson at a press conference. "So he became upset, and that started this argument which ultimately resulted in these two people getting shot and killed." Marsha and Michael were already divorced. But they decided to cohabitate until their house sold then split the proceeds.
Michael has a criminal history laced with charges of child abuse and domestic violence.
He also assaulted a police officer.
So it makes you wonder why Marsha married his ass in the first place.
Watch the sad report and Michael's arrest.
Share your thoughts.