Thug kills black chick by accident, targeted his ex
Maxine Congress killed by mistake.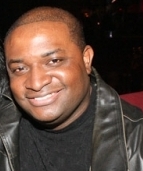 Blog King, Mass Appeal
INDIANAPOLIS — The adventures of Pookie & Ray Ray continue. Frederic Pipes was thrown in the slammer after he shot and killed 23-year-old Maxine Congress by mistake. He meant to kill his other ex-girlfriend instead. The femicide transpired last week in Indianapolis. According to court docs, Frederic spotted his 29-year-old ex-girlfriend driving Maxine's car in the vicinity of 40th and Emerson. The gun-toting malefactor then jumped out his car, with two kids inside, and opened fire — accidentally striking Maxine in the face as she was sedentary in the passenger seat. The other ex-girlfriend wasn't hit. Maxine was rushed to the hospital where she ultimately died. "She lost her life over something that had nothing to do with her," said Latoria Harmon, Maxine's mother. "My baby was innocent. She had absolutely nothing to do with what was going on." Frederic, 27, was arrested and charged with murder. You can tell from his mugshot somebody kicked his ass. Frederic's left eye was all f*cked up.
"You know this issue of domestic violence isn't just victims or survivors. It's an issue for everyone and can impact everyone," said Domestic Violence Awareness advocate Danyette Smith. "Unfortunately those killers aren't thinking about who is around. Those shooters aren't thinking about who will be hit if they shoot the gun."
To compound matters, Maxine and the ex-girlfriend were about to beat up Frederic's new girlfriend. They were parked in front of her home when the shooting occurred. Turns out, Frederic was f*ckin' all 3 of 'em. Lucky bastard. Pookie & Ray Ray get all the p*ssy. Meanwhile, square n*ggas must undergo fingerprints and background checks to get laid. Realizing he was headed to prison, Frederic lied and told investigators his new girlfriend shot Maxine, not him.
But they knew he was full of sh*t.
Social media reaction was unforgiving.
One person wrote, "That wasn't by accident. He knew what he was doing and should pay the price."
Another added, "Daaaaaaaaaaam! She went to fight and got killed??? Sad as f*ck."
Watch the report.
Share your thoughts.