Bookstore owner killed by employee she once dated
Bookstore owner killed by ex.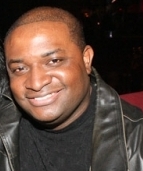 Blog King, Mass Appeal
ATLANTA — The adventures of Pookie & Ray Ray continue. Romero Johnson, 38, was thrown in the slammer after he kidnapped and murdered 42-year-old Erica Atkins because she broke up with him. The femicide transpired Sunday in Locust Grove, Georgia — just south of Atlanta. According to multiple reports, Romero begged Erica to take him back. When she declined, the Shrek look-alike killed her. Romero tried to delude police. But his actions were caught on camera. Investigators reviewed surveillance footage that shows Romero grabbing a sheet of plastic lining from Erica's garage to cover her body. Then he drove several miles to Cedar Creek and dumped her in the water. A fisherman found Erica's corpse the ensuing Monday. Romero was arrested and charged with murder and kidnapping. Erica, a single mom of two, was the owner of Birdsong Books. Romero was one of her employees. Yep. Erica gave the n*gga a job, some good p*ssy and he killed her anyway. Ungrateful sumbitch.
"We're hurting," Erica's daughter, Jasmine Atkins, told reporters.
"She kept everyone together."
Social media reaction was melancholic. One reader wrote, "Wow! If a female doesn't want you, move on — get over it. Like the old saying goes: 'There's plenty of fish in the sea.' Don't go killing the person you broke up with. You go your way and she'll go her way. This doesn't make any sense at all." Another chimed in with, "He envied her. He couldn't handle her ambition, ideas, self-confidence, creativity, so he took her life and still won't be worth sh*t. He hid his envy, evilness for quite some time. Be careful ladies!"
A third person added, "These ugly ass men are losing their f*cking minds."  
Watch the sad report.
Share your thoughts.