Bull rider shot dead by his jealous girlfriend for flirtin'
Bull rider killed by girlfriend.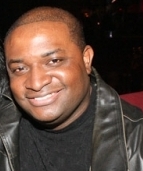 Blog King, Mass Appeal
SALT LAKE CITY — "Hell hath no fury like a woman scorned." Twisted Crimes released the murder documentary of 27-year-old bull rider Demetrius Allen who was shot dead by his girlfriend, 22-year-old Lashawn Denise Bagley, because he gawked at another woman's ass. The homicide transpired on September 12, 2022 at Lashawn's apartment in Salt Lake City, Utah. According to police reports, Demetrius — better known as "Ouncie Mitchell" — was in town to compete in the Utah State Fair and he stayed with Lashawn during his stop. After the fair, they went to a bar downtown. That's where Demetrius ogled another popsy's derrière in front of Lashawn. Then he upped the ante by flirting. Feeling disrespected, Lashawn pulled Demetrius to the side and an argument quickly ensued. Seconds later, Demetrius told Lashawn he was done with the relationship and they went back to her apartment so he could grab his personal belongings. He brought his new woman with him.
As soon as Demetrius attempted to egress the property, Lashawn pulled out a gun and opened fire — shooting him through her front door. Police found Demetrius sprawled out in front of Lashawn's unit. He was pronounced dead at the scene. Family members are still in shock. "We were prepared for the arena," said Demetrius' aunt, Kamilah Mitchell.
"But for him to be taken from us by a gunshot, that was something we couldn't imagine."
Social media reaction was melancholic. One commenter wrote, "When riding bulls are more safe than dating Keisha." Another chimed in with, "This poor guy rode deadly bulls and survived only to be killed because of some bullsh*t." A third person added, "Leave quietly! Never let your left hand know what your right hand is doing.🤦🏾‍♂️"
Speaking of leave quietly… Lawshawn moved back to her hometown in southeast Texas which explains why she wasn't arrested until January 3, 2023. The trigger-happy virago was charged with murder and felony discharge of a firearm. She's facing a million years in prison. Demetrius was one of the best performers at the rodeo. He made the list of Top 33 Bull Riders in the world.
Family members said Lashawn and Demetrius were on and off.
She was nothin' more than a piece of ass.
Demetrius leaves behind a 5-year-old daughter.
Watch the documentary.
Share your thoughts.