Pookie staged his fiancée's murder & said self-defense

Pookie kills popular hairstylist.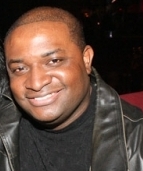 Blog King, Mass Appeal
CLEVELAND — The adventures of Pookie & Ray Ray continue. Tirrell Edwards, 41, was thrown in the slammer after he murdered his fiancée, 46-year-old Amanda Williams, because she called off the wedding. The femicide transpired on October 9th at their home in Warrensville Heights – a suburb of Cleveland, Ohio. After years of being Tirrell's punching bag, Amanda told him she wanted to sunder their relationship — sparking a bout of contretemps. As the quarrel intensified, Tirrell baited the single mom into brandishing a knife. He knew that if he threatened to kill her, Amanda would have no choice but to protect herself. As soon as she grabbed the weapon, Tirrell pulled out a 6-shot revolver and emptied the clip — killing Amanda instantly. Then he called 911 but didn't request an ambulance. He also wouldn't let Amanda's oldest daughter enter the room.
The simp wanted to make sure Amanda didn't survive.
When police arrived, Tirrell told 'em he acted in self-defense in accordance with Ohio's "Stand-Your-Ground Law." He also recorded the incident on his cell phone as video corroboration. Officers originally bought the story and let him go. But, realizing they made a huge mistake, detectives did a complete 180 and charged his black ass with aggravated murder. Tirrell wisely turned himself in.
"He tried to sell this as a self-defense, and it is our opinion that it's not," said Cuyahoga County Assistant Prosecutor Kevin Filiatraut.
Pastor R.A. Vernon, the head of Amanda's church, said the killing was the end result to years of domestic abuse.
"The evidence are pictures of him beating the hell out of her," Pastor Vernon told reporters.
"I'm not exaggerating. It's clear. I mean, literally, [there's] texts that say, 'I'm sorry I kicked you in the face.'"
Amanda had it going on.
She was pretty.
She was the crème de la crème when it came to hairstyling.
And she was the proprietor of "A La Mode Stylez" beauty salon.
Tirrell determined if he couldn't have her, no one can.
Those who knew Amanda personally disseminated their grief via social media.
One Facebook user wrote, "This truly hurts. Amanda was a beautiful soul. She was a genuine person who loved people and was gifted and anointed to beautify others."
Another added, "SPEECHLESS!!!!! My Friend, My Spec. Gone too soon. Amanda was the life of the environment."
Pastor Vernon echoed a homogenous sentiment.
"There's some people, and I've been doing this a long time, that when they walk in the room, they light up the room; that was her," he recalled.
"She'll be sorely missed, and we're grieving the needless death because of domestic violence."
Investigators said Tirrell put two guns in his car and left one inside the house prior to the murder.
So there's no question he intended to kill her.
Amanda and Tirrell appeared to be the perfect couple on social media.
But, behind closed doors, he tormented her.
Watch the explosive documentary.
Share your thoughts.