Pastor robbed at gunpoint catching hell for gay slurs
Whitehead is a con man.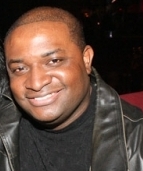 Blog King, Mass Appeal
NEW YORK — Lamor Whitehead, the bishop robbed at gunpoint during church service, once conned an elderly female congregant out of thousands of dollars. The New York pastor was sued by Pauline Anderson in September 2021 after she gave him $90,000 to purchase a home and he used it for his unsuccessful political campaign. Anderson told Whitehead she had bad credit and he promised to help her secure housing. Then she cashed out her retirement and handed him a check. When Anderson requested a refund, Whitehead told her he used the "investment" as a "donation" for his campaign for Brooklyn Borough President. "For the record, anything that was given to me is a Donation unless it's attached to a contract!" he texted in a message to Anderson. "I was making investments that's what I Do!"
Sadly, swindling churchgoers is nothin' new to Whitehead. The rapacious clergyman served five years in the penitentiary for fraud and grand larceny. He was probably sodomized because he acts like a lil bitch. Nevertheless… last month, Whitehead was robbed mid-sermon by a group of gunmen who purloined jewelry worth $1 million. The flamboyant reverend is known for flaunting bling, designer clothes and luxury cars — making him an easy target.
"My wife has not stopped crying. My daughter has not stopped crying yet. My members have not stopped crying yet," Whitehead told reporters. "Why do we always gotta tear Black men down? As soon as a Black man has a tailored suit, he's a criminal."
During an appearance on Larry Reid Live, Whitehead excoriated Pastor Reid and Pastor Geneses Warren when they made a laughingstock of the robbery. He called Reid a "faggot" then poked fun at Warren's obesity. "You're a fat slob," he told her.
Man, I've never seen pastors act like that.
No wonder people are stayin' away from church.
Many are speculating Whitehead staged the robbery.
Do you feel sorry for him?
Is karma biting him in the ass?
Watch Whitehead cuss out Reid and Warren at the 20:00 minute mark.
Share your thoughts.