Wheeler-Weaver's murder documentary shows horror
Serial killer used dating apps.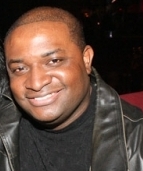 Blog King, Mass Appeal
NEW JERSEY — Viral Crimes released the homicidal documentary of Khalil Wheeler-Weaver, the New Jersey serial killer who used dating apps to catfish and lure his victims. If you recall, Khalil murdered three black chicks (19-year-old Robin West, 33-year-old Joann Brown and 20-year-old Sarah Butler) between August 2016 and November 2016 and he tried to kill a fourth. The Jack the Ripper wannabe was sentenced to 160 years in prison. What's ironic is when Sarah met Khalil on the social media site "Tagged," she texted him the ominous message "You're not a serial killer, right?" Her corpse was later found behind a pile of rubble at the Eagle Rock Reservation in West Orange. Khalil's fourth victim, Tiffany Taylor, managed to escape. Not sure if she was drugged, but Tiffany woke up in the back seat of a car handcuffed with duct tape over her mouth as she was being raped. She was, however, astute enough to convince Khalil to take her back to the Ritz Motel in Elizabeth to retrieve her phone.
Khalil was also indicted for the murder of 15-year-old Mawa Doumbia. Donning khaki-colored penitentiary garb and a white N95 mask, Khalil appeared in court for a 3-minute arraignment in October. He pleaded not guilty despite the fact prosecutors found "extensive digital evidence" that he met Mawa online the day she went missing. He even offered remuneration for a piece of ass. Khalil targeted prostitutes which is why Essex County Prosecutor Theodore N. Stephens II wouldn't rule out additional victims.
Khalil, 26, was a student at Essex County College.
He worked as a security guard at a grocery store.
Khalil looks like a normal dude with glasses.
Doesn't resemble a serial killer at all.
Watch his documentary "A Monster in Disguise."
Share your thoughts.