Pookie killed entrepreneur wife because he's jealous
Pookie bit the hand that fed him.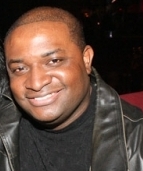 Blog King, Mass Appeal
DALLAS — The adventures of Pookie & Ray Ray continue. Twisted Crimes released the murder documentary of 35-year-old Dishaye Stevenson who was shot dead by her simpin' husband, 39-year-old Michael Smith, because she threatened to divorce him. The femicide transpired around 7:30 a.m. on October 25, 2023 in Dallas, Texas. According to multiple reports, Dishaye and Michael had contretemps while traveling in a car. As the argument intensified, Michael pulled out a gun and opened fire — shooting Dishaye point-blank in the chest. Then he dumped her on the side of the road like a sack of trash. Police arrived. Dishaye was pronounced dead at the scene. Michael went to a nearby barbershop where he was arrested and charged with murder. Yep, the imbecile had the audacity to get a haircut after killing his woman. Ain't that a bitch?
"Like, I just don't understand. I just wanna know why," said Dishaye's sister, Jasmine Stevenson.
"Why would you take my sister from us? Like why?"
Family members said Michael was jealous of his wife, mainly because he's a penurious bum.
Dishaye, on the other hand, was a successful entrepreneur with her own clothing brand (Shaymon3y Purses & More LLC).
She prepared income tax returns too.
Dishaye also remained loyal to Michael while he was incarcerated, gave him $10,000 as a birthday gift, footed the bill for their lavish wedding, bought his conjugal rings, and paid all the bills. Michael had no responsibilities at all. Dishaye was clearly the breadwinner. "[Dishaye] did everything in her power to show him that she loved him no matter what," Jasmine recounted.
"It was a lot of red flags."
Social media reaction was melancholic.
One commenter wrote, "This goes to show that money can't buy true happiness. You can't buy a person's love no matter how much money you have. A man will always resort back to where he feels like a man, whether that's in the streets or in jail."
Another viewer added, "She was the only hustler and provider in the marriage. She bought love and acceptance, major red flag." 
Dishaye leaves behind a 17-year-old daughter.
She and Michael appeared to be the perfect couple on social media.
But, behind closed doors, it was a different story.
Watch the explosive documentary.
Share your thoughts.