Kansas City reverend rips members, calls 'em broke
KC Pastor rips congregation.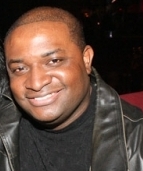 Blog King, Mass Appeal
KANSAS CITY — A viral TikTok video shows Kansas City Reverend Carlton Funderburke lambasting his parishioners because they don't tithe enough. Funderburke, senior pastor at Church at The Well, even had the audacity to call 'em "broke, busted and disgusted" for not buying him an expensive Movado watch that costs roughly $3,000. The holy diatribe transpired mid-sermon on August 7th. "This is how I know you're still poor, broke, busted and disgusted, because of how you've been honoring me," Funderburke told the congregation. "I'm not worth your McDonald's money? I'm not worth your Red Lobster money? I ain't worth your St. John Knit? You all can't afford it nohow. I ain't worth y'all Louis Vuitton? I ain't worth your Prada? I'm not worth your Gucci? You can buy a Movado watch in Sam's. Y'all know I asked for one last year. Here it is all the way in August and I still ain't got it."
Honor you?
Aren't churchgoers supposed to honor God?
Social media reaction was vitriolic. One viewer wrote, "THIS is exactly why I don't go to a modern church today. It's a hustle." Another chimed in with, "If anyone is still attending that church, they are seriously out of their minds." A third observer added, "Nothing's changed. Back in the day preachers wanted Cadillacs when everyone else was either walking or taking the bus. They wanted houses when others could only rent. The only difference now is technology and social media where more people can witness the audacity."
Realizing he screwed up, Funderburke released an apologetic video on Tuesday.
"I've spoken to those I am accountable to and have received their correction and instruction," he said.
"I have also privately apologized to our church, who has extended their love and support to me."
Church at The Well is located at 8607 Longview Road.
Be sure to bring your purse and wallet.
Watch Funderburke's rant and apology.
Share your thoughts.