Bishop Jakes dumps on women.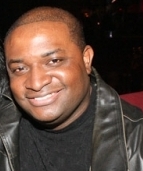 Blog King, Mass Appeal
DALLAS — Bishop T.D. Jakes pissed-off feminists worldwide when he told his congregation "we are raising up women to be men" and, because we're subverting femininity, families are being extirpated. The 65-year-old pastor also insinuated females are the primary reason sin exists. Bishop Jakes delivered his best Kevin Samuels impersonation at his Dallas-based megachurch, "The Potter's House," as part of his Father's Day homily. The sermon was streamed via TikTok video. "Real men pour in," he said. "If Adam had not allowed Eve to pour into him, sin would have never come into the world. Sin came into the world because Adam broke the order." Bishop Jakes, who used to be woke, then told male congregants to quit being bums and get remunerated. "We were not designed to receive from women," he explained.
"Your self-esteem is compromised when you have to ask your wife for lunch money."
Social media reaction was priceless. One viewer wrote, "Women need to understand we are attracted to femininity in women, not masculinity in women." Another added, "Bishop Jakes has been a SIMP for years and now he sees the Manosphere and he's trying to cash in 💸 💰 on the opportunity. Don't fall for the trick because he's the king of False prophets."
A third observer added, "Not only did T.D. Jakes wait until Kevin Samuels died to say this, but seems like he waited until this topic was popular for men and women to put down female masculinity. Because as long as the majority of men and women continue to speak out against female masculinity, T.D. Jakes can't get canceled."
What's my take?
For every masculine woman there's a feminine man.
So even though there's truth to what Bishop Jakes is saying, it's not a female problem per se. It's a Western societal dilemma concocted by bitch-ass men. The fish rots from the head down. Secondly, black women put Bishop Jakes on the map. They comprise most of his church attendance and they're the only ones who watch and/or purchase his Tyler Perry-esque movies.
Does "Woman Thou Art Loosed" ring a bell?
So I'm surprised Bishop Jakes has decided to bite the hand that feeds his corpulent ass.
That said, do you agree with him?
Are we witnessing the cessation of alpha males?
Watch the sermon.
The explosive remarks start at the 19:20 mark.
Share your thoughts.