NFL great Willie McGinest assaults dude in nightclub

McGinest tried to kill a n*gga.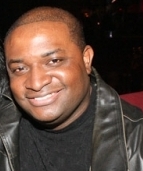 Blog King, Mass Appeal
LOS ANGELES — This week's "I F*cked Up A Good Job Award" belongs to Hall of Fame linebacker Willie McGinest who was fired from the NFL Network after a video surfaced that shows him and his entourage beating the sh*t out of a dude at a nightclub. The sanguinary ambush went down December 9th at Delilah's in West Hollywood. Surveillance footage shows Willie and his clique unloading on the patron as he was sedentary at the dinner table. First, Willie sucker-punched homeboy with a vicious left haymaker to the jaw. Then, as his buddies got some licks in, Willie grabbed a wine bottle and bashed the guy in the cranium repeatedly. Willie's pants fell down during the attack. Now the entire world can see the crack of his ass. Very embarrassing. Several employees and customers tried to intervene. But it was to no avail. Willie was in zombie mode. The victim was treated for cuts and bruises. Willie, 51, was arrested and charged with assault with a deadly weapon.
His sports analyst days are toast.
"We are aware of the incident and the video, which is disturbing," the NFL Network said in a statement. "Willie McGinest will not appear on NFL Network." Social media reaction was wild. One viewer wrote, "Damn! He beat his monkey ass! The guy musta deserved it. DAMN!" Another chimed in with, "Dude 'bout to get paid. Also, I don't see no women in this club… umm."
A third observer added, "Sooo that's a gay bar or something? Where the ladies at???🤕😳😁" to which another person replied, "The guy he's beating was sitting with another man. Willie's boyfriend?"
Runnin' afoul of the law is nothin' new to Willie.
While at USC, he and two other football players were accused of raping a 23-year-old woman in a dormitory.
Did Big Willie ruin his legacy?
Watch the ass-whuppin.'
Share your thoughts.