Jace murder documentary revealed disturbing details
Broke actor straight snapped.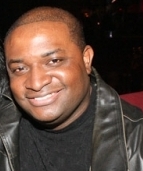 Blog King, Mass Appeal
LOS ANGELES — Viral Crimes released April Jace's murder documentary and it contains chilling details. April, if you recall, was killed by her estranged husband — "Shield" actor Michael Jace — in front of their children on May 19, 2014 after she sought divorcement. April was only 40. The quondam lovebirds had been married 11 years. But, because he couldn't land an acting gig, Michael was unemployed the last 6 years of their marriage. Dayuuummm! Why didn't she leave him earlier? Even Pookie & Ray Ray get less time than that. Nevertheless, the penurious couple filed bankruptcy in 2011 after accumulating $500,000 in debt. That's when Michael started self-medicating with liquor while accusing April of infidelity. On the day of her quietus, April received 164 text messages from Michael imploring her to stay while she was at their kids' baseball game. The jilted lover also threw the bible in April's countenance, claiming they're both devout Christians. "I am just amazed at how comfortable a woman of God just walks out of a marriage," Michael wrote. "Stop throwing the bible at me," April replied.
Moments later, when April returned home, Michael confronted her in the living room and they had contretemps. Then he pulled out a gun and shot April three times — once in the back and twice in the legs. The beautiful mother of three died instantly. Michael dialed 911 and told the operator he deep-sixed his wife. Then he called April's father and asked him to come pick up the kids.
April — a financial aid advisor at Biola University — was a phenomenal sprinter. She was crowned the 2011 Track & Field World Champion in 100 Meters Relay for women over 35. That's significant because Michael, 60, taunted her as he pulled the trigger, saying, "You like to run so much, why don't you try running to heaven." Damn, that's foul — you jaundiced, broke bastard.
Should've gotten off your slothful ass and found a job.
After all, it's not uncommon for laid-off actors to moonlight.
"Martin" star Carl Anthony Payne sells used cars to make ends meet.
Ditto for "Cosby Show" thespian Geoffrey Owens who bagged groceries at Trader Joe's.
There's no excuse.
Michael was arrested, charged and convicted of murder.
On June 10, 2016 he received 40 years in prison.
In addition to "The Shield," Michael's other credits include "Southland," 2001's "Planet of the Apes" and "Forrest Gump."
Watch the documentary.
Share your thoughts.